UNKNOWN ASIA 2022
UNKNOWN ASIA 2022UNKNOWN ASIA 2021
紀陽銀行 presents UNKNOWN ASIA 2022 を今年も開催します。
私たちが大切にしてきたのは、アーティストによる新しい価値創造の機会を提供し続けること。出展するアーティストにとって快適かつ実りあるフェアを開催するため、安心して出展できる環境作りをおこない、国や地域に捉われないクリエイティブなコミュニケーションの場を創造しています。
UNKNOWN ASIAには、日本とアジア各国から集う最先端のアーティストが集います。
彼らの熱量を感じていただきながら、アーティストとの出会いとコミュニケーションをどうぞお楽しみください We are pleased to announce that "Kiyo Bank presents UNKNOWN ASIA 2022" again this year.

Our goal is to continue to provide opportunities for artists to create new value. In order to make the fair comfortable and fruitful for exhibiting artists, we are creating a safe environment for exhibitors and creating a venue for creative communication regardless of country or region.

UNKNOWN ASIA brings together cutting-edge artists from Japan and other Asian countries. We hope you will enjoy meeting and communicating with the artists while feeling their enthusiasm.
---
開催日程
DATE
2022.10.15[sat] 10:00 - 20:00
2022.10.16[sun] 10:00 - 17:00
2022.10.14[fri] 15:00 - 20:30 VIP PREVIEW (関係者、招待者のみ) October 15 (Saturday) 10:00am - 20:00pm
October 16 (Sunday) 10:00am - 17:00pm
October 14 (Friday) 15:00pm - 20:30pm VIP Preview(by invitation only)
---
開催会場
VENUE
グランフロント大阪 ナレッジキャピタル コングレコンベンションセンター
〒530-0011 大阪市北区大深町3-1 グランフロント大阪 北館 B2F Grand Front Osaka Knowledge Capital Congressional Convention Center
B2F, Grand Front Osaka North Building, 3-1 Ohshuka-cho, Kita-ku, Osaka 530-0011, Japan
---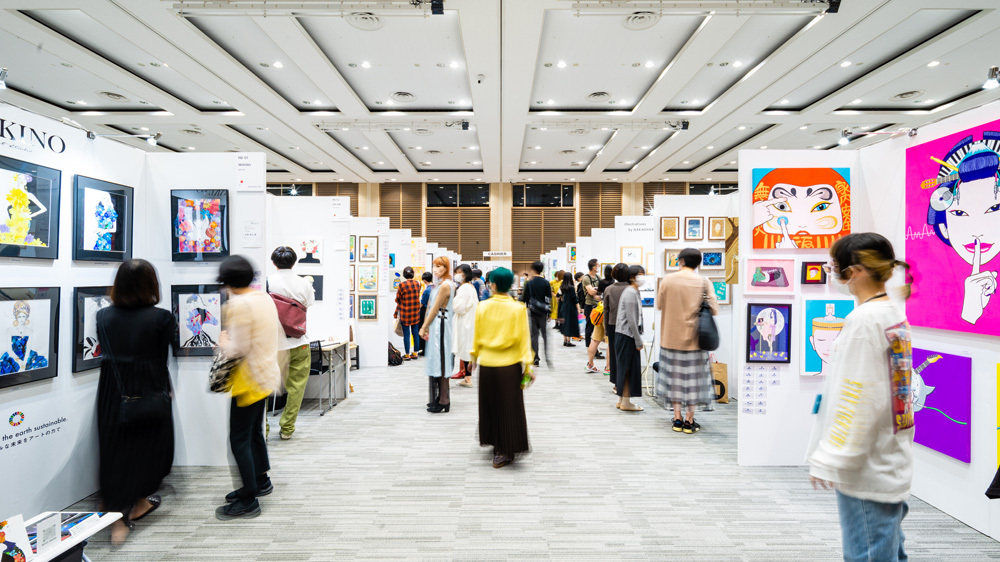 2022年度の受賞者が決定!

The winner of 2022 is decided!

紀陽銀行 presents UNKNOWN ASIA 2022では、10月15日(土)に各賞の受賞者が決定!受賞者の一覧はこちらから。

Kiyo Bank presents UNKNOWN ASIA 2022, the winners of each prize will be decided on Saturday, October 15 ! Click here for the list of award winners.
---
2022年度の出展者一覧

Exhibitor list for FY 2022

UNKNOWN ASIA 2022では、多数の応募の中から選ばれたアーティストに参加していただきました。誠にありがとうございました。

For UNKNOWN ASIA 2022, we are pleased to announce the participation of artists selected from among the many applications. Thank you very much for your participation.
---